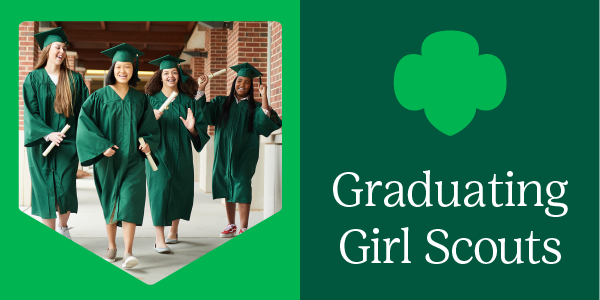 Lifetime Membership for Recent Graduates
GSEOK is excited to offer seniors these opportunities and resources to help in the next steps of their Girl Scout journey after graduation! 
Interested in a Lifetime Membership with Girl Scouts?
Want to be a champion for the next generation of change-makers?! Click here for more information on the "Young Alum" Lifetime Membership opportunity! If you would like to purchase a Young Alum Lifetime Membership with Cookie Program Credit (CPC) click here!
Benefits
Lifetime membership card and pin
Invitation to an annual call for lifetime members hosted by Girl Scouts of the USA's CEO
Invitations to memorable events
Monthly Girl Scout Network digital newsletter
10% off Girl Scout merchandise purchased online
Discounts at Joann stores, Trust and Will, and Edith Macy Center
Volunteering Opportunities
After graduation we encourage you to help us continue to build girls of courage, confidence, and character by volunteering as troop support or a troop leader.
You can fill out our volunteer form here and let us know if you need to be connected to a troop, have one in mind, or would like to start your own. 
Don't forget to print the volunteer certificate below to acknowledge your time served with Girl Scouts! We greatly appreciate your gift of volunteering!
---
We want to hear from you! Email us at customercare@gseok.org with the subject line "Recruitment Ideas" and let us know what recruitment event ideas you think would be enjoyed by younger and older girls.