With a virtual Cookie Credit card on the horizon, now is an excellent time to make sure your contact information is up to date! Without a good email address you could miss out on the Cookie Credit card email and a few emails monthly to keep you in the know about all things Girl Scouts! Please take a few seconds to log in to your account and make sure everything is correct.
Continue >

Shop for everyone on your gift list this holiday season at smile.amazon.com, and they will donate a portion to Girl Scouts of Eastern Oklahoma. #YouShopAmazonDonates
Continue >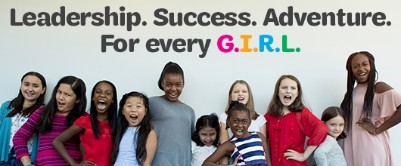 In a world full of boys' clubs, Girl Scouts gives her one of her own. Here she is never a co-star, always the lead. Our one-of-a-kind programing and all-girl, girl-led environment is the single best place for her to learn, grow, and thrive. It's been proven time and again. Learn more about the Girl Scout Difference.
Continue >

Cookies, campfires, and bracelets are all part of the journey, but changing the world? That's the real destination! Girl Scouts do amazing things.
Come meet us at a local event so you can register and start your adventure in Girl Scouts.
Continue >
GSEOK Social Media Feed