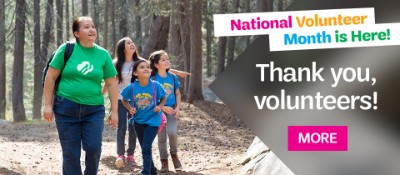 Every day, Girl Scout volunteers make it possible for girls across the country to enjoy and benefit from an adventure-having, skill-building, lead-taking, life-changing good time. It's undeniable: without our volunteers' commitment to unleashing the G.I.R.L. (Go-getter, Innovator, Risk-taker, Leader)™ in every girl, we couldn't and wouldn't be the largest girls' leadership organization in the world. But we are. Thanks to them. And we love them for it.
Continue >

Customers can still buy a box of cookies to be donated and delivered by the council through the Operation Cookie Drop program. Girls can direct customers to our website, Cookies, Find Cookies, Operation Cookie Drop, and tell them to enter the troop number and girl's name in the box marked "On Behalf Of." The council will make sure the credit is directed to your troop.
Continue >
GSEOK Social Media Feed

Host Families Needed for International Camp Staff
02 Mar 2017
During summer Resident Camp, we give campers the benefit of a culturally diverse camp staff by hiring international camp counselors. You can help to make their experience in the United States a more positive one by hosting an international camp counselor for this summer.