Attention: All GSEOK Offices and Girl Scout Store will be closed on January 16, in observance of Martin Luther King, Jr. Day.
The Girl Scout Store will be closed on January 21 for the 100th Anniversary Celebration.

Join us on Monday, January 16, 2017 to walk in the Martin Luther King, Jr. Parade!
Register your troop by clicking "Continue"!
Continue >

Open to all Girl Scout and Boy Scout members, in conjunction with the Boy Scouts - Arbuckle Area Council. Admission is FREE for Girl Scouts and Boy Scouts! Children $2, Adults $3 - Discounted rate at the gate.
Continue >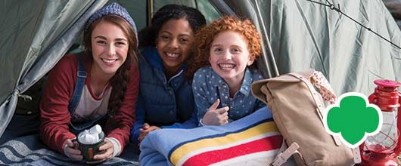 Girls' Choice badges are back, and we need you to help us pick the winner, now through January 22! This year, girls can choose their favorite badge topic from four new and exciting options. And for the very first time, there will be a Girls' Choice badge for Daisies—our littlest (and sometimes mightiest!) Girl Scouts.
Continue >

This year, do even more to help change girls' lives and prepare them for a lifetime of leadership and adventure! Now through Jan. 31, invite a friend to volunteer with Girl Scouts and everybody wins — especially girls. Give them one more hero to depend on and help them find their spark. Invite a friend today!
Continue >
GSEOK Social Media Feed