Enjoy sips, sweets, and jewels! Join us on May 2 from 5 - 7p, for a night of fun and shopping for a cause! 20% of sales will benefit Girl Scouts of Eastern Oklahoma. Can't make it in? Call the store during the event and purchase over the phone!
Continue >

GSEOK members: check your inbox! Your invitation from Girl Scouts of the USA is waiting. Share your insights in the Girl Scout Voices Count survey and be entered into a drawing for a $50 gift card. Make your voice heard!
Continue >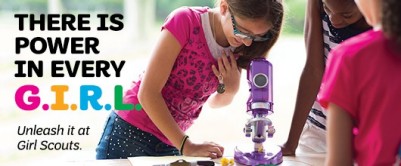 Cookies, campfires, and bracelets are all part of the journey, but changing the world? That's the real destination! Girl Scouts do amazing things.
Come meet us at a local event so you can register and start your adventure in Girl Scouts.
Continue >

GSEOK Social Media Feed