With a Virtual Cookie Credit Card, now is an excellent time to make sure your contact information is up to date! Without a good email address you could miss out on the Cookie Credit card email and a few emails monthly to keep you in the know about all things Girl Scouts! Please take a few seconds to log in to your account and make sure everything is correct.
Continue >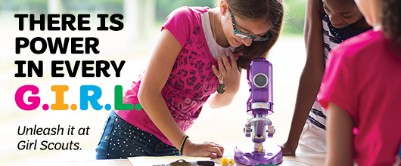 Cookies, campfires, and bracelets are all part of the journey, but changing the world? That's the real destination! Girl Scouts do amazing things.
Come meet us at a local event so you can register and start your adventure in Girl Scouts.
Continue >
GSEOK Social Media Feed


GTR: Girl Scout Cookies Now On Sale
05 Feb 2018
Girl Scouts of Eastern Oklahoma entered its 101st year of cookie sales, with its 2018 season beginning Feb. 3. Booth sales begin Feb. 16 and end March 18.
Muskogee Phoenix: Annual cookie drive kicks off
03 Feb 2018
Girl Scout Troop Leader Barbara Hentz answers questions Thursday about this year's Girl Scout Cookie Drive at a meeting of Troop 4224 at the Dr. Martin Luther King Jr. Community Center. Cookie sales begin Saturday and run for about six weeks.